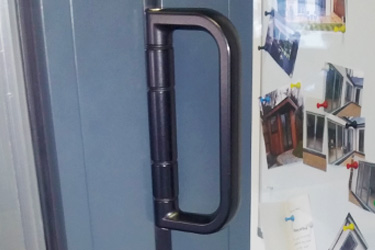 Why should I choose a Smarts Visofold 1000 Bi-fold Door?
There is a pretty good chance that you hadn't heard of Smarts Systems before visiting our site. The reason for this is, that although they have been around for a long time, they don't spend large amounts of money on advertising and marketing. The Smarts Bi-fold doors quality speaks for itself. It has an uncomplicated design, with clean edges and excellent build quality. It is, without doubt, the Smarts Visofold 1000 offers excellent value for money.
Also, for more information check out our blog on the difference between the Visofold 1000 and Visofold 600 Bifold Doors. 
Who buys Smarts Visofold Bi-fold Doors?
For many years this has been a firm favourite with our trade customers. These doors are at a price point that is within reach for most customers and gives the tradesmen the ability to sell these and fit them within a small budget. This low price is continued through when bought directly from us maximising the Smarts Visofold 1000's value for money. You get high-end features, such as multi-point locking systems, high-grade powder coating, and excellent functionality that much more expensive doors offer.  You will love these affordable aluminium bifold doors as they are perfect for many types of home improvement projects.
Can Smarts Bi-fold Doors be used for commercial use?
Smart Systems originally designed their aluminium products to be used in a commercial setting. After recognising the popularity of the bi-fold door within the residential market, they made the decision to use their knowledge to make sliding doors that could be used in either setting and that was at a price point available to most people. The Smarts Visofold 1000 Bi-fold Door still works just as well for commercial use and we have installed them in many different work environments including coffee shops and chip shops. This gives the businesses the ability to open the whole of their shop fronts on sunny days making the premises even more accessible without compromising on style.
How Secure is the Visofold 1000?
The Smarts Visofold 1000 has an integrated 6 point locking system that has been fully tested to some of the highest standards and has passed all tests. They comply with building regulations and all Smarts bi-fold doors are designed with security in mind. In most cases, they are more secure than normal doors.
How easy is it to install a Smarts Visofold 1000 Bi-fold Door?
Out of all of the concertina doors that we supply, this one is by far the easiest to install. The Smarts Visofold 1000 comes complete and requires minimal fitting in comparison to others. After fixing the frame, the only part you have to install is the glass, remembering to always toe and heel from the fixed end, back towards the traffic door. This installation can be done by a competent DIY person within a few hours.