DOUBLE GLAZING vs TRIPLE GLAZING
A double glazed, 28mm, argon filled, with warm edge spacer
thermal U value 1.2
A triple glazed, 34mm, argon filled, with silver spacer bar
thermal U value 1.0
One of the questions that we are often asked, time and time again is "which is better double glazing or triple glazing?" There is no simple answer to that. There are occasions when double glazing far outweighs the benefits of triple glazing and vice versa. Triple glazing isn't always more thermally efficient either. The minimum cavity between the panes should be 16mm, if you require triple glazing within a 28mm unit the cavity space will only be 8mm. The overall U-Value of this unit would then be approximately 1.3 compared to a double glazed 28mm unit with a u-value of 1.2. As you can see this is only slightly less efficient but never the less, still a lesser performing unit. The optimum thickness for triple glazing is 38mm overall although you will see benefits from 34mm. Regardless of the overall width, a 28mm triple glazed unit will still be a better insulator of sound than a 28mm double glazed unit. Sometimes the reasons for triple glazing aren't always to save energy. If you live in a very noisy area, triple glazing may be the way forward. This doesn't have to be installed in every window and door in your home though, you can install it only in the rooms that are worst affected. It is difficult to notice a difference in appearance between double glazing and triple glazing once it has been installed.
One of the biggest factors to consider is the weight of the glass. Triple glazing weighs approx 35% more than double glazing. If you are fitting this into a sliding patio door, bi-fold doors or opening windows, this has a dramatic impact on the hinges and in some cases limits the sizes possible. We would generally recommend triple glazing anywhere that there is a large surface area of glass that remains static for instance, in some roof lanterns and any glass curtain walling. These are the products where we believe you will notice the benefits most.
Take a look at the comparisons below and decide whether the extra benefits of triple glazing will outweigh the extra costs. If you have any further questions please contact our team.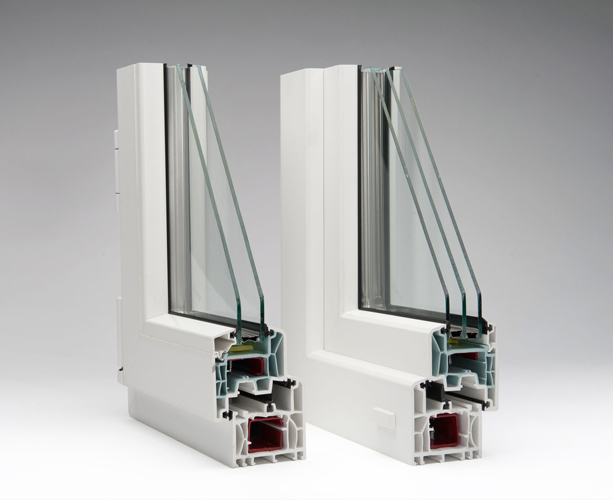 REASONS FOR TRIPLE GLAZING
Triple glazing is a far better insulator of noise, so for those of you that live near busy roads or factories, we would recommend installing this into your home. For those of you that don't need the added advantage of this, the small amount of extra thermal insulation you are getting for the price, probably doesn't warrant the extra cost.
Triple glazing is far better at reducing the amount of condensation that builds up on the inside of your windows. If you find that you suffer from this at home, there may be other areas to address to fix the issue, but triple glazing is a step in the right direction.
BENEFITS OF DOUBLE GLAZING
The cost of double glazing in relation to triple glazing is much cheaper. Saving yourself some money without losing too many benefits is never a bad thing!
They are very nearly as energy efficient as Triple Glazing so you won't really notice any extra heat loss in your home.
It is much lighter so puts less strain on the mechanisms within your product making them easier to open and close but also prolongs the use of the product itself.