Argon Gas Filled
We fill all of our double glazed units with a Argon gas. This is to reduce the conductivity of heat through the air between the two panes of glass. Doing this improves the thermal efficiency significantly and reduces heat loss out of the home as well as reducing the cold conduction into the home.
Low Emissivity Coatings
This is an invisible coating that helps to reflect heat back into the room. This ensures as much heat retention within the room as possible. This alone will help you to save money on your fuel bills.
Self Cleaning Glass
This is a coating on the external side of the glass and uses the UV rays from the sun's light to break down any dirt. This allows the rain to simply wash it all away. This doesn't work through long dry spells but a simple spray or hose down will do the trick, without getting all that window cleaning equipment out. No cleaning products should be used on this to maximise the longevity of its effectiveness. We currently only supply this as standard on Roof Lanterns.
Solar Control
Solar control glass usually has a tint that helps to stop infrared radiation from entering the home keeping it cool. This is used predominantly on south facing large expanses of glass such as bi-fold doors and patios as well as on conservatories. This is something that we also supply as standard on roof lanterns.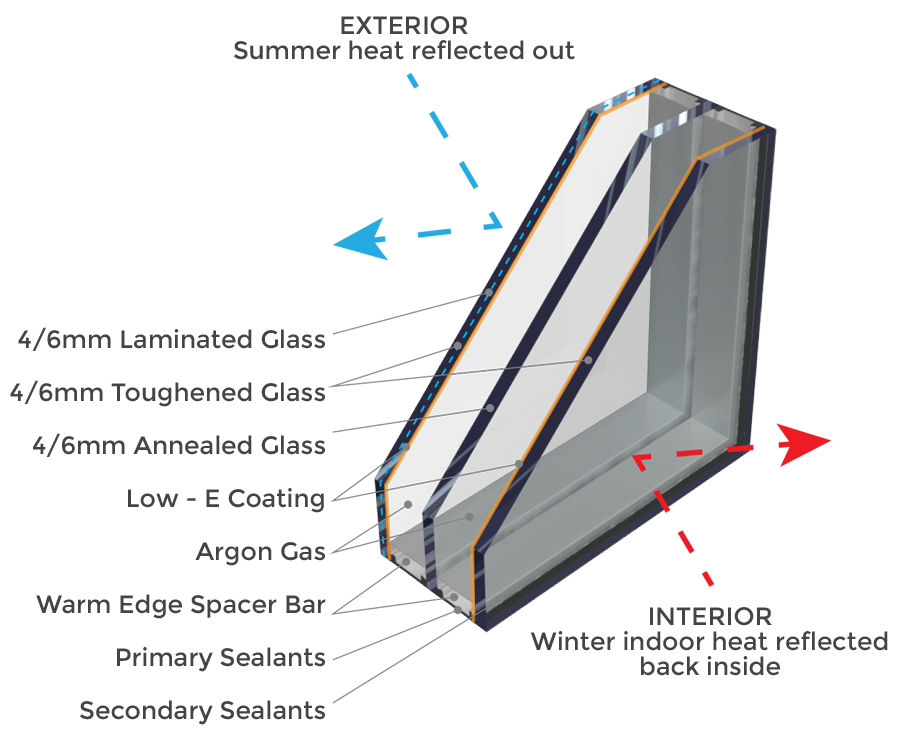 Thermal U-Value choices
Thermal U Values are indicators of how much heat is transferred through a material, simply put, the lower the value the higher the efficiency. For example, single glazed glass has a thermal U Value of approximately 5 where modern double glazing has a value of about 1.2 highlighting how much heat is lost through single glazing compared to double glazing.
Toughened Safety Glass
Our doors come with toughened safety glass as standard and this can be recognised by the British standard kite mark in the corner. The toughened glass is stronger than normal glass and in the event that it may break, it will break into small fragments rather than dangerous shards.
Warm Edge Spacer Technology
We fit these as standard on all of our double glazed units and this helps to stop the conduction of cold through the edge of the frame that is usually one of the causes of condensation around the bottom of the frame.
Laminate Glass
Laminate glass is a type of safety glass that is used where security is essential. This works for both restricting intrusion as well as acting as a safety barrier where there isn't one. A good example of where laminate glass must be used is on a Juliette balcony without a handrail or a multi-storey glass curtain wall that you may see in shopping centres.
Laminate also has the added advantage of restricting the amount of ultraviolet radiation that can pass through it. This means that the light is filtered making it much safer on the skin and will help to reduce sun bleaching to furniture.
4mm/6mm Glass
4mm glass is the standard thickness of glass for most double glazed panes of glass. This comes in various forms such as Float and Toughened for different safety reasons.
6mm glass is for any area that exceeds 2.5m2. Some companies will insist on using 6mm glass from 2.3m2 depending on where it is being used.